$27.99
✔️Use Your Car-powered Devices at Home: Converts 100V-240V AC household current to 12V DC power, very convenient to use car powered devices at home.
✔Super Powerful AC to DC Converter: Length: 9ft(2.7M) Input: 100V-240V 1.3A max, Output: DC 12V 10A 120W max, support higher power much more powerful than many other AC to DC Converters.
✔Wide Application Range: Works perfectly with Any car-powered devices under 120W including Tire inflator, Vacuum Cleaner, Car Refrigerator, Car Massage Cushion, Car Air Fan
✔️Safety Certification: 3C Certification, FCC Certification, CE Certification, Over-current Protection, Over-voltage Protection, Over-charge Protection, Damp protection, Short Circuit protection, Electrical protection.
✔️No Risk To Buy: Any problem with our product please contact us, you will enjoy refund or exchange service and our worry-free 12-month warranty and friendly customer service.
Description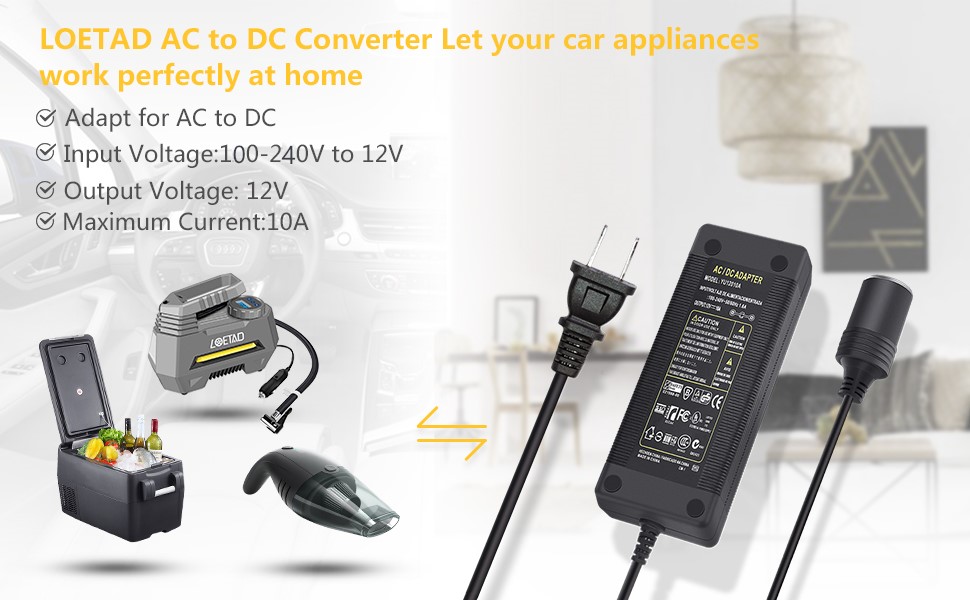 ​※ Multiple Intelligent Protection ※
Overcurrent protection

Made with high quality material, multilayer PCB and optimized shield design provide the power supply with better circuit protection

Overvoltage protection

By processing the OVP circuit, you will avoid high input voltage and damage to the background circuit

Protection against overload

Disconnect automatically when charging is complete

Moisture protection

Waterproof, prevent electricity leakage

Protection against short circuit

A short-circuit protection mechanism is provided to ensure that the adapter is not damaged when a short circuit occurs

Protection against interference

Comply with international specifications to reduce the impact of electromagnetic interference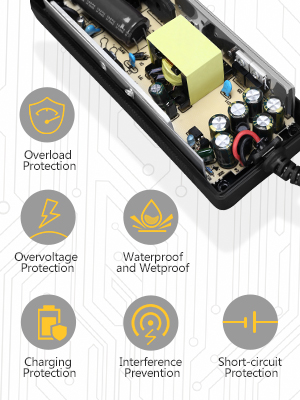 High quality materials ensure safe use
Specifications:
AC TO DC CONVERTER IDEA FOR TRAVEL
Carry the accessories of your 12V car while you are on the move.
You can also enjoy all the additional comforts of your vehicle while you are inside and make the hotel more like home.
Practical and Premium
With our converter, you can connect a 12V device to the Min 100V to Max 240V socket in your home and use electrical appliances that you do not use often in the home, such as an air pump, hand vacuum cleaners, etc., so you do not have to buy a another new
Input Voltage: 100 V ~ 240 V AC
Output Voltage: 12V DC
Nominal Power: 120W (MAX)
Maximum Current: 10A
Cable Length: 9feet (4 feet + 5 feet)
Size: 16.5 * 6 * 3.5cm
Weight: 1.55Ib
Please See the Instruction Carefully Before Use
We recommend connecting the converter with the power supply BEFORE connecting the DC 12V cigarette lighter of your devices.
Never connect electrical appliances with a power greater than 120W.