Description

LOETAD has a professional engineering and technical staff and R&D team to provide you with high-quality design and production.
LOETAD are believe in enhancing relationships to pursue innovation
We pride ourselves in giving our follower the smoothest online shopping experience.
LOETAD Digital Tire Inflator Gauge makes filling tires extremely easy when using an air compressor. Instead of filling a tire by checking the pressure, adjusting, and repeating over and over again, simply press the handle of tire inflator gauge down to fill the tire to the exact pressure you want and then release the handle, it will stop filling. Save your time by filling the tire only once.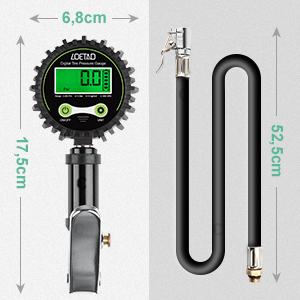 LOETAD Tire Inflator with Gauge Tire Pressure Gauge 200Psi
3-in-1 Digital Tire Inflator/Deflator/Pressure Gauge
Wide range of 3 to 200PSI
4 measurement units PSI, BAR, KG/CM², KPA
Highly reliable at a precision of ± 0.5PSI
Large backlit LED Lighting
Automatic shut off after 15 seconds
Built from premium heavy duty components
Easy-to-install 2 x AAA batteries(included)
Low-battery indicator reminds you when to replace the battery.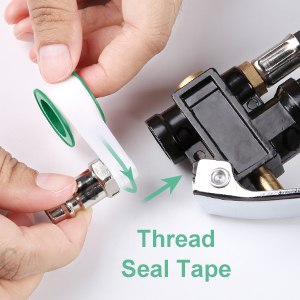 LOETAD Tire Inflator with Gauge Package
1 x Tire Inflator with Pressure Gauge
1 x 90 Degree Valve Extender / 1 x Presta Valve Adapter
4 x Valve Cap / 1 x Metal Tire Valve Cap
1 x 1/4″ Quick Connect Male Fitting / 1 x 1/4″ Steel Threaded Female Fitting
1 x PTFE Thread Seal Tape Roll
2 x AAA Batteries
1 x Manual
1 x Packing Box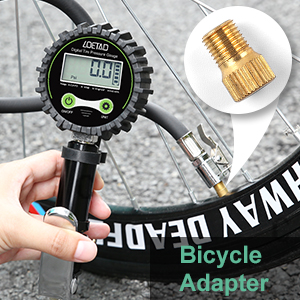 Multiple Accessories
Straight lock on, dual foot lock on, 1/4" NPT Male Connector
Metal Tire Valve Cap Include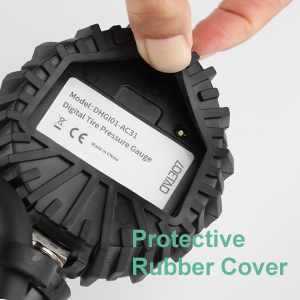 All-in-one Design
Surrounded by a rubber cover, protecting from drops and easy to grip.
Good leakproofness: built with heavy duty fitting to improve the sealing performance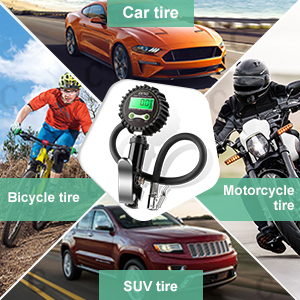 Multifunction / Multipurpose
Versatile for cars, bikes, motorcycles, or trucks
Bright LCD with clear readings: The tire inflator gauge can be used in the dark without any hassle.