$14.99
🐕 Improved version with remote control of 900 meters 🐾 You can train your dog when he plays outside with our dog collar with a range that reaches up to 600 meters
🐕 3 more convenient training modes 🐾 This electric training collar has modes [Beep, Vibration and Electrostatic Shock] Ringtone and vibration are fixed and not adjustable, but the level of electric shock can be set from 1 to 16
🐕 Rechargeable lithium battery and Fast charging 🐾 After 2 hours of fast charging, you can use our training collar 2-3 hours and 6-12 days standby; With a 2 in 1 charging cable, you can charge the remote control and the collar at the same time
🐕 IPX7 waterproof collar 🐾 100% waterproof collar, which is suitable for rain or snow, splash, and activities in contact with water. But if the dog want to swim, please remove the collar first to ensure its lifespan
🐕 Adjustable collar for all dogs 🐾 Silicone collar, our dog collar is soft and comfortable for your dog. It is adjustable from 15 to 70 cm, which is suitable for small, medium and large dogs and adapts to the personality of all dogs from the mild to the most stubborn
Description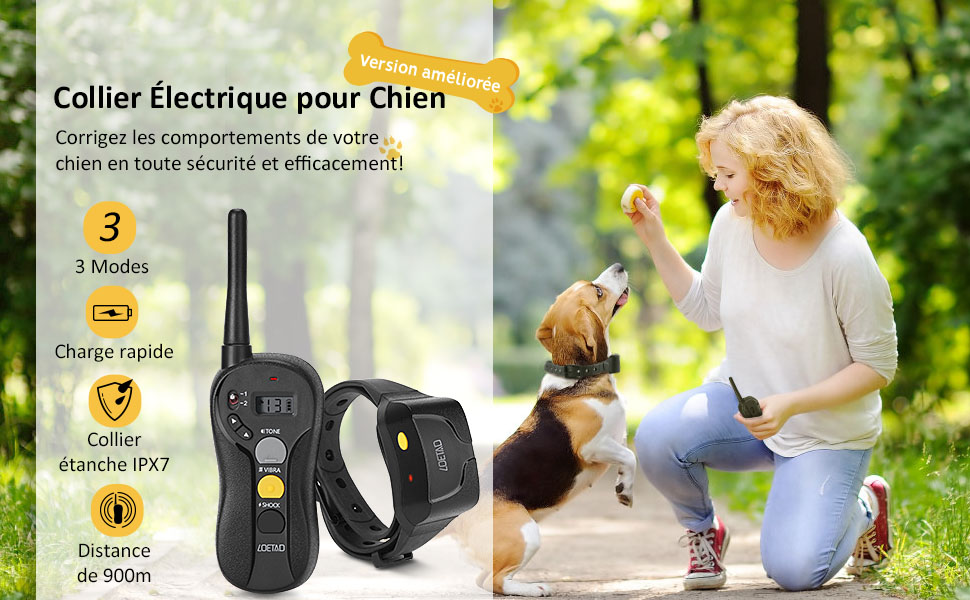 Product Features
The size of the LOETAD training collar is adjustable from 15 to 70cm. It is suitable for most breeds of dogs (small, medium and large dogs).
Waterproof performance: 100% waterproof IPX7 collar.
With 2 in 1 charging cable: Remote control and collar can be charged at the same time.
The remote can control up to two necklaces.
Note: There is only one dog collar in the box. If you want to buy a second necklace, please contact customer service.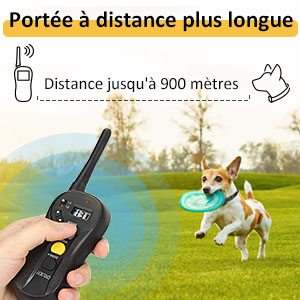 A new updated version
Function Improvement: Based on feedback from most customers, we have improved the non-adjustable mode vibration function to make the operation more convenient.
The remote control range is longer: In the absence of any signal interference, the maximum distance from other dog training devices is 600 meters, but our range is up to 900 meters.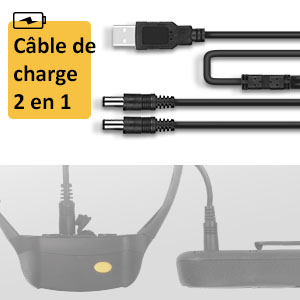 2 in 1 charging cable
You can charge the remote control and the collar at the same time, which saves you time.
Charging time: 2 to 3 hours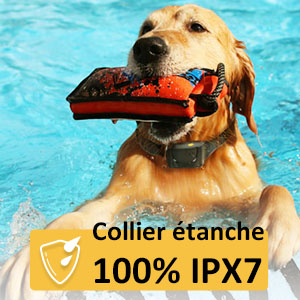 IPX7 waterproof collar
Attention: Our collar with IPX7 protection cannot be dipped directly in water. It is protected against the effects of immersion in a maximum depth of 1m and for a maximum of 30 minutes.
However, in order to prolong the life of the necklace
We recommend that you remove the collar first in the case of bathing or swimming.
If the collar accidentally gets wet, wipe it dry with a towel in time to prevent corrosion of the circuit.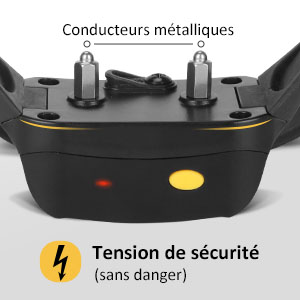 In electrostatic shock mode: safe voltage and no danger to the dog
With double protection for your dog
There are 4 silicone sleeves to protect your dog's skin from direct contact with metal connectors, which will not affect the operation of the collar.
Before using the electrostatic shock mode:
First, you need to put 4 metal conductive connectors. Then please use the transparent tool to test.
How to check if the shock mode is working?
You need to press the shock button, if the indicator light is on red, it means electrostatic shock mode is working properly.
Product list
1 * Remote control; 1 * Lanyard
1 * Adjustable collar
1 * Charger adapter
1 * 2 in 1 charging cable
1 * Transparent test bulb
4 * Black silicone sleeves
4 * Metal conductors (for electrostatic shock mode)
1 * User Manual (including French)